Visiting the eye doctor can be a little unnerving, even for adults. But, don't worry! Here's what to expect at your first eye doctor appointment at EPF.
1. We'll have a few forms for you to fill out so we can learn more about you and your vision.
To learn more about you, your vision, and any eye issues you may be having and to gather your insurance information, we'll have a few forms for you to fill out.
Find out if your vision insurance is accepted at EPF.
Many of these forms are available here so you can save time by answering the questions ahead of time.
2. One of our eye doctors will give you a comprehensive eye exam.
When you arrive at one of our locations, you'll be greeted by friendly staff who will help you get checked in. When your eye doctor is ready for you, you'll be taken to an exam room for a comprehensive eye exam.
Your eye doctor will test your vision to determine if your prescription is up to date, as well as examine your eyes for signs of vision problems or underlying health issues, such as:
Amblyopia (lazy eye)
Cancer
Cataracts
Diabetes
Glaucoma
Eye strain
Immune deficiency disorders
Macular degeneration
Neurological disorders
STDs
Tumors
And more
3. You'll take your next step toward clearer vision.
Depending on the results of your eye exam, one of the following will be your next step:
We'll see you next year for your annual eye exam!
If you're seeing 20/20 or if your prescription is the same, that's wonderful. We're happy to order more contacts for you or help you update your frames if you like, but if you don't need vision correction, we'll see you in 365 days for your next exam!
Our opticians will help you choose frames.
If it's time for new glasses, our opticians will show you options and help you choose frames that flatter your face and lenses that work for your lifestyle.
We'll order your contacts and schedule your lesson.
Need more contacts or an updated prescription? We'll order new contact lenses for you.
If you're new to contacts, don't worry. All new contact lens wearers at EPF receive a lesson that will teach you how to insert, remove, clean, and care for your contacts and eyes.
Our doctors will recommend a treatment plan for you.
If glasses or contacts aren't the answer, our doctors will design a treatment plan for you. This might include vision therapy, eye drops, or another option according to your needs.
We'll refer you to an ophthalmologist.
If you're interested in LASIK, PRK, or vision correction surgery or if you need eye surgery for another reason, our doctors will refer you to a trusted ophthalmologist in the Lafayette, Indiana area. While we can help you will almost all of your vision needs at EPF, we do not perform surgery.
We'll refer you to the appropriate medical professional.
If symptoms of an underlying health issue are discovered, we'll refer you to a doctor or other medical professional who can best meet your needs.
If you have more questions about what to expect at your first eye doctor appointment at EPF, please contact us. We're more than happy to answer your questions and concerns and would be honored to care for you and your family's vision.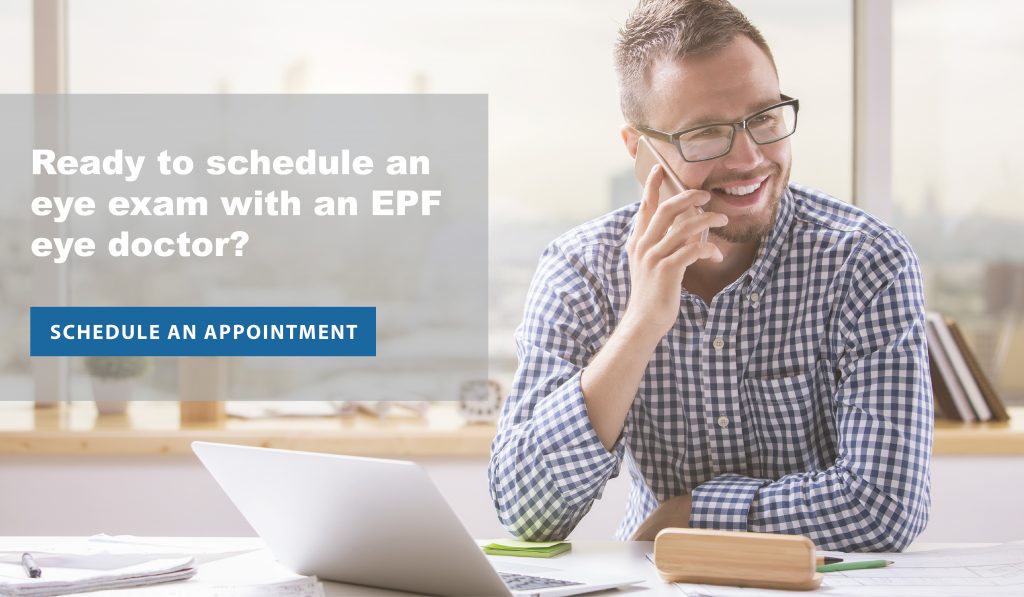 EPF Eye Care—formerly Evans, Piggott, & Finney—is a private optometry practice with locations in Lafayette, West Lafayette, and Attica, Indiana. With ten eye doctors and five locations, EPF offers convenient and specialty eye care for the entire family.
Call EPF Eye Care to schedule an appointment, and follow the practice on Facebook.